We are introducing new generation of weather sensors for IQsocket and IQconbox products. Now you can simply turn IQtronic products to powerful indoor or outdoor weather station which is smallest in the world. And still in very attractive price.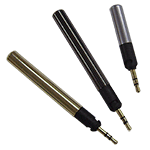 Miniaturized sensors are able to measure following environmental parameters:
temperature
relative humidity
absolute humidity
dew point
absolute pressure
altitude
Sensors are very unique thanks to:
Ultra thin casing
Attractive metallic design
IQsocket, IQconbox and IQboard compatible
high accuracy
external enclosure not influenced by electronics
possible sensor extension up to 10m
1-wire proprietary standard
technical documentation for 3rd party product integrations
In combination with IQtronic controllers you can have smallest meteo station in the world.
Sensor Silver
Sensor Titan Black
Sensor Gold
 
temperature
temperature
relative humidity
abs.humidity
dew point
temperature
relative humidity
abs.humidity
dew point
abs.pressure
altitude